A BRILLIANTLY WRITTEN ACCOUNT OF THE NBA'S GLORY DAYS, AND THE RIVALRY THAT DOMINATED THE ERA

In the mid-1950s, the NBA was a mere barnstorming circuit, with outposts in such cities as Rochester, New York, and Fort Wayne, Indiana. Most of the best players were white; the set shot and layup were the sport's chief offensive weapons. But by the 1970s, the league ruled America's biggest media markets; contests attracted capacity crowds and national prime-time television audiences. The game was played "above the rim"–and the most marketable of its high-flying stars were black. The credit for this remarkable transformation largely goes to two giants: Bill Russell and Wilt Chamberlain.

In The Rivalry, award-winning journalist John Taylor projects the stories of Russell, Chamberlain, and other stars from the NBA's golden age onto a backdrop of racial tensions and cultural change. Taylor's electrifying account of two complex men–as well as of a game and a country at a crossroads–is an epic narrative of sports in America during the 1960s.

It's hard to imagine two characters better suited to leading roles in the NBA saga: Chamberlain was cast as the athletically gifted yet mercurial titan, while Russell played the role of the stalwart centerpiece of the Boston Celtics dynasty. Taylor delves beneath these stereotypes, detailing how the two opposed and complemented each other and how they revolutionized the way the game was played and perceived by fans.

Competing with and against such heroes as Jerry West, Tom Heinsohn, Bob Cousy, John Havlicek, and Elgin Baylor, and playing for the two greatest coaches of the era, Alex Hannum and the fiery Red Auerbach, Chamberlain and Russell propelled the NBA into the spotlight. But their off-court visibility and success–to say nothing of their candor–also inflamed passions along America's racial and generational fault lines. In many ways, Russell and Chamberlain helped make the NBA and, to some extent, America what they are today.

Filled with dramatic conflicts and some of the great moments in sports history, and building to a thrilling climax–the 1969 final series, the last showdown between Russell and Chamberlain–The Rivalry has at its core a philosophical question: Can determination and a team ethos, embodied by the ultimate team player, Bill Russell, trump sheer talent, embodied by Wilt Chamberlain?

Gripping, insightful, and utterly compelling, the story of Bill Russell and Wilt Chamberlain is the stuff of sporting legend. Written with a reporter's unerring command of events and a storyteller's flair, The Rivalry will take its place as one of the classic works of sports history.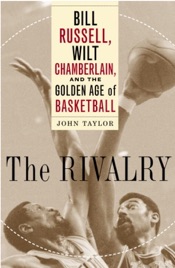 Download and Read books The Rivalry online PDF, TXT, ePub, PDB, RTF, FB2 & Audio Books files for your device. So, you can read the books in any times.
Read and Download books The Crown of Gilded Bones -
Bow Before Your Queen Or Bleed Before Her…
From #1 New York Times bestselling author Jennifer L. Armentrout comes book three in her Blood and Ash series.
She's been the victim and the survivor…
Poppy never dreamed she would find the love she's found with Prince Casteel. She wants to revel in her happiness but first they must free his brother and find hers. It's a dangerous mission and one with far-reaching consequences neither dreamed of. Because Poppy is the Chosen, the Blessed. The true ruler of Atlantia. She carries the blood of the King of Gods within her. By right the crown and the kingdom are hers.
The enemy and the warrior…
Poppy has only ever wanted to control her own life, not the lives of others, but now she must choose to either forsake her birthright or seize the gilded crown and become the Queen of Flesh and Fire. But as the kingdoms' dark sins and blood-drenched secrets finally unravel, a long-forgotten power rises to pose a genuine threat. And they will stop at nothing to ensure that the crown never sits upon Poppy's head.
A lover and heartmate…
But the greatest threat to them and to Atlantia is what awaits in the far west, where the Queen of Blood and Ash has her own plans, ones she has waited hundreds of years to carry out. Poppy and Casteel must consider the impossible—travel to the Lands of the Gods and wake the King himself. And as shocking secrets and the harshest betrayals come to light, and enemies emerge to threaten everything Poppy and Casteel have fought for, they will discover just how far they are willing to go for their people—and each other.
And now she will become Queen…
Read and Download books The Mistake -
New York Times
bestseller Elle Kennedy brings you a sexy new Off-Campus novel that can be read as a
standalone
…
He's a player in more ways than one…
College junior John Logan can get any girl he wants. For this hockey star, life is a parade of parties and hook-ups, but behind his killer grins and easygoing charm, he hides growing despair about the dead-end road he'll be forced to walk after graduation. A sexy encounter with freshman Grace Ivers is just the distraction he needs, but when a thoughtless mistake pushes her away, Logan plans to spend his final year proving to her that he's worth a second chance.
Now he's going to need to up his game…
After a less than stellar freshman year, Grace is back at Briar University, older, wiser, and 
so
 over the arrogant hockey player she nearly handed her V-card to. She's not a charity case, and she's not the quiet butterfly she was when they first hooked up. If Logan expects her to roll over and beg like all his other puck bunnies, he can think again. He wants her back? He'll have to
work
for it. This time around, she'll be the one in the driver's seat…and she plans on driving him wild.
Read and Download books A Love Song for Rebels -
Tyler didn't set out to break my heart… But life doesn't give marks for good intentions.
Now, I'll stop at nothing to achieve my dreams. I'm done playing by anyone else's rules.
But when Tyler shows up in the last place I expect, with secrets and a confession… 
There will be a reckoning.
Because the naive girl he shattered is gone.
And the woman in her place is ready for a fight.
A Love Song for Rebels is Book 2 in the angsty new adult, academy-inspired Rivals trilogy and should be read following A Love Song for Liars (Rivals #1).
Fans of bully, academy, enemies to lovers, friends to lovers, and rock star romance will love this new series!
PRAISE FOR THE RIVALS SERIES
"All the feels. All the angst. All the drama. And that ending, gah! I need book two now!" - Siobhan Davis, USA Today bestselling author
"This one gets all the stars. Stories like this are why I read NA romance. Those overwhelming feelings and teenage firsts...this book has them all!" - Michelle ★★★★★
"Off the charts chemistry. The attraction and emotion pour from the pages." - Beth ★★★★★
"Absolute perfection. The last chapter broke me." - Deb ★★★★★
"If you want enough angst to tear you to shreds? This is your book." - BookObsession ★★★★★
"I am NOT okay... These pages held me hostage from beginning to end." - Kandace ★★★★★
Read and Download books The Maidens - "Stunning... The intelligent, cerebral plot finds contemporary parallels in Euripides's tragedies, Jacobean dramas such as The Duchess of Malfi, and Tennyson's poetry. The devastating ending shows just how little the troubled Mariana knows about the human psyche or herself. Michaelides is on a roll."
—Publishers Weekly, starred review
"A deliciously dark, elegant, utterly compulsive read
—
with a twist that blew my mind. I loved this even more than I loved
The Silent Patient
and that's saying something!"
—Lucy Foley, New York Times bestselling author of The Guest List
From the #1 New York Times bestselling author of The Silent Patient comes a spellbinding tale of psychological suspense, weaving together Greek mythology, murder, and obsession, that further cements "Michaelides as a major player in the field" (Publishers Weekly).
Edward Fosca is a murderer. Of this Mariana is certain. But Fosca is untouchable. A handsome and charismatic Greek tragedy professor at Cambridge University, Fosca is adored by staff and students alike—particularly by the members of a secret society of female students known as The Maidens.
Mariana Andros is a brilliant but troubled group therapist who becomes fixated on The Maidens when one member, a friend of Mariana's niece Zoe, is found murdered in Cambridge.
Mariana, who was once herself a student at the university, quickly suspects that behind the idyllic beauty of the spires and turrets, and beneath the ancient traditions, lies something sinister. And she becomes convinced that, despite his alibi, Edward Fosca is guilty of the murder. But why would the professor target one of his students? And why does he keep returning to the rites of Persephone, the maiden, and her journey to the underworld?
When another body is found, Mariana's obsession with proving Fosca's guilt spirals out of control, threatening to destroy her credibility as well as her closest relationships. But Mariana is determined to stop this killer, even if it costs her everything—including her own life.
Read and Download books Heartland - He's the party animal who's hiding a wounded soul.
She's the sweet, awkward girl concealing her feelings.
Their friendship means everything... until the night they set it on fire.
Heartland is a stand-alone novel in the True North world. Expect: cute goats, college parties, caramels, a hot, broody farm boy and a broken girl who can't stop loving him.
"One of my favorites! This book has it all. Feels, check! Steam, check!. Characters you will love! Don't miss Heartland, it's so, so good!"
New York Times bestselling author Kendall Ryan
"The perfect combination of sweet and dirty."
New York Times bestselling author Helena Hunting
Read and Download books From Blood and Ash -
Captivating and action-packed, From Blood and Ash is a sexy, addictive, and unexpected fantasy perfect for fans of Sarah J. Maas and Laura Thalassa.
A Maiden…
Chosen from birth to usher in a new era, Poppy's life has never been her own. The life of the Maiden is solitary. Never to be touched. Never to be looked upon. Never to be spoken to. Never to experience pleasure. Waiting for the day of her Ascension, she would rather be with the guards, fighting back the evil that took her family, than preparing to be found worthy by the gods. But the choice has never been hers.
A Duty…
The entire kingdom's future rests on Poppy's shoulders, something she's not even quite sure she wants for herself. Because a Maiden has a heart. And a soul. And longing. And when Hawke, a golden-eyed guard honor bound to ensure her Ascension, enters her life, destiny and duty become tangled with desire and need. He incites her anger, makes her question everything she believes in, and tempts her with the forbidden.
A Kingdom…
Forsaken by the gods and feared by mortals, a fallen kingdom is rising once more, determined to take back what they believe is theirs through violence and vengeance. And as the shadow of those cursed draws closer, the line between what is forbidden and what is right becomes blurred. Poppy is not only on the verge of losing her heart and being found unworthy by the gods, but also her life when every blood-soaked thread that holds her world together begins to unravel.
Reviews for
From Blood and Ash
:
"Dreamy, twisty, steamy escapism. Take me back!" -New York Times bestseller Wendy Higgins
"Jennifer Armentrout has the power to control my emotions with every word she writes. From swooning to crying to racing through the pages to find out what happens next, I couldn't stop reading about Hawke and Poppy, and you won't be able to either." - Brigid Kemmerer,
New York Times
Bestselling Author of
A Curse So Dark and Lonely 
"Action, adventure, sexiness, and angst! From Blood and Ash has it all and double that. So many feels and so many moments it made me cheer for the character. Read. This. Book! You'll be obsessed!" -  Tijan NYT bestselling author
"From Blood and Ash is a phenomenal fantasy novel that is filled to the brim with danger, mystery and heart melting romance. I loved every single second of it and I couldn't get enough of this new fantastical world. A heart stopping start to what is clearly going to be a stunning series, perfect for both those who love fantasy and those who are new to the genre. A must read." Kayleigh, K-Books
"If you think you are ready for From Blood and Ash, think again. Jennifer L. Armentrout has woven a new fantasy universe that will leave you reeling. Filled with action, heart wrenching twists and the most delicious romance, this unputdownable novel comes with a warning: keep a fan close by, because the temperatures are about to rise." Elena, The Bibliotheque Blo
"In this exciting new novel by Jennifer L. Armentrout, she introduces a fantastical world filled with immense detail, and characters who are poignant and fierce, Jennifer truly has out done herself!" – BookBesties 
"From Blood and Ash is a fantastic fantasy that will hook you immediately from the very first page! I loved every single moment and all of the characters are ones you will fall in love with! Jennifer L. Armentrout has done it again with her amazing writing skills and lots of detail! Get this book immediately!!!" - Amanda @Stuck In YA Books
"Jennifer has stepped into the fantasy genre with this absolutely amazing novel. With characters you will love and more than a few twists and turns, get ready for one amazing adventure."
-Perpetual Fangirl
"This magnificent book has so many pieces in it: fantasy, mystery, forbidden romance, supernatural, lies, deceit, betrayal, love, friendship, family. And so, so, so many secrets your head will be spinning. Jennifer L. Armentrout has created another masterpiece that I will be rushing to buy, and will be telling everyone to read it ASAP!" ~Jeraca @My Nose in YA Books
"From Blood to Ash is the first high fantasy book from Jennifer L Armentrout, but hopefully not the last. Like all her other works, her ability to create worlds, create swoon worthy men, and feisty strong female characters is amazing. Fantasy, mystery, romance, betrayal, love, and steamy scenes, this book has it all." - Lisa @ The Blonde Book Lover
"From Blood & Ash is everything we love about JLA's fantasy writing...pumped up on steroids. There's epic world building and plot twists, a strong female lead, a swoon worthy book hottie, a steamy forbidden love story, and side characters that can't help but steal your heart. My mind was blown by the end of this book." - Kris S. (frantic4romantic)
"Step into an exciting new fantasy world by Jennifer L. Armentrout, From Blood And Ash takes you on a fantastic ride with twists and turns galore. Characters you will love to laugh and cry with. A phenomenal start to an exciting new series." - Lori Dunn an avid reader
"From Blood and Ash was everything I wanted in a high fantasy novel. The myths, the legends, the epic romance, and an adventure that will keep you on your toes beginning to end. I couldn't put the book down. Truly a brilliant start to what I believe will be yet another amazing series by Jennifer L. Armentrout." –Sabrina, Books Are My Life
"Jennifer L. Armentrout takes her first step into the high fantasy genre with From Blood and Ash. A story of forbidden love, lies, secrets, and betrayal - it will leave you wanting more after the very last page." - Love Just Is Books
"From Blood and Ash is like reading my favorite book for first time." - Raquel Herrera
"With From Blood and Ash, Jennifer Armentrout successfully takes on the genre of high fantasy, proving, once again, that she is a master of her craft. Filled with epic adventure, forbidden romance, deceit, lies, and betrayal, FB&A draws you in from page one and refuses to let go!"
- Erica, The Rest Just Falls Away
"Jennifer L. Armentrout comes trough once again with From Blood and Ash as it kept me enthralled throughout the full book. You won't be able to put down this epic story once you start." - Julalicious Book Paradise
"From Blood and Ash strikes the perfect balance between fantasy and romance elements leaving the world feeling live in and full while allowing the relationship between the main characters feeling real and authentic." - Nads Book Nook, Nadine Bergeron
"Be prepared to spend your whole day reading From Blood and Ash. Once you start reading this high fantasy novel, you won't want to put it down." - Love Book Triangle
"From Blood and Ash is absolutely breath taking. JLA does what she does best by creating a fantastical world filled with romance, lies, betrayal, adventure and all things we love and expect from JLA characters that melt our hearts and steal our hearts and souls. I cannot wait for the next one!" - Pia Colon
"From Blood and Ash, Jennifer L. Armentrout brought to life a high fantasy that is enthralling. Another masterful addition to my collection. Get ready to stay on your toes from start to end." - Amy Oh, Reader by the Mountains
"From Blood and Ash is the first high fantasy novel by Jennifer L Armentrout and she absolutely nails it. This is fantasy for skeptics and unbelievers because it makes you want to be a fantasy fan! This page turner makes you want to devour it in one night and at the same time savor every detail. Heart stopping and inspiring and grips you from page one." – Tracy Kirby 
"An intriguing puzzle of a world, a ruthless hero, a determine heroin, and a plot that will keep you up late, this book is one of the best I've read this year." – Valerie from Stuck In Books
"From Blood and Ash, a thrilling high fantasy that packs a punch, each page will leave you wanting more!" - Tracey, Books & Other Pursuits
Read and Download books Local Woman Missing - "Dark and twisty, with white-knuckle tension and jaw-dropping surprises." —Riley Sager, New York Times bestselling author of Home Before Dark
In this smart and chilling thriller, master of suspense Mary Kubica takes domestic secrets to a whole new level, showing that some people will stop at nothing to keep the truth buried.
People don't just disappear without a trace…
Shelby Tebow is the first to go missing. Not long after, Meredith Dickey and her six-year-old daughter, Delilah, vanish just blocks away from where Shelby was last seen, striking fear into their once-peaceful community. Are these incidents connected? After an elusive search that yields more questions than answers, the case eventually goes cold.
Now, eleven years later, Delilah shockingly returns. Everyone wants to know what happened to her, but no one is prepared for what they'll find…
Look for these other riveting thrillers by Mary Kubica:
The Good Girl
Pretty Baby
Don't You Cry
Every Last Lie
When the Lights Go Out
The Other Mrs. 
Read and Download books Mafia King - Santino is my king. My lover. My husband.
He's the head of the Cavallo crime family and the moment he choked my vows from me, my life was bound to his.
I'm done fighting my fate, until I hear two rumors, and I'm shaken to the core.
One rumor about the past—that I wasn't the first bride Santino took.
Another about the future—a new bride is about to be taken.
Changing the old ways is like dousing the flames of hell with tears.
But I married the devil himself, and when I vowed to obey, I lied.
Book two of three in the The Dilustro Arrangement.
Read and Download books The Four Winds -
#1 NEW YORK TIMES BESTSELLER #1 USA TODAY BESTSELLER#1 WALL STREET JOURNAL BESTSELLER#1 INDIE BESTSELLER"The Four Winds seems eerily prescient in 2021 . . . Its message is galvanizing and hopeful: We are a nation of scrappy survivors. We've been in dire straits before; we will be again. Hold your people close."—The New York Times"A spectacular tour de force that shines a spotlight on the indispensable but often overlooked role of Greatest Generation women."—People
"Through one woman's survival during the harsh and haunting Dust Bowl, master storyteller, Kristin Hannah, reminds us that the human heart and our Earth are as tough, yet as fragile, as a change in the wind."
—
Delia Owens, author of
Where the Crawdads Sing
From the number-one bestselling author of
The Nightingale
and
The Great Alone
comes a powerful American epic about love and heroism and hope, set during the Great Depression, a time when the country was in crisis and at war with itself, when millions were out of work and even the land seemed to have turned against them.
"My land tells its story if you listen. The story of our family
."
Texas, 1921. A time of abundance. The Great War is over, the bounty of the land is plentiful, and America is on the brink of a new and optimistic era. But for Elsa Wolcott, deemed too old to marry in a time when marriage is a woman's only option, the future seems bleak. Until the night she meets Rafe Martinelli and decides to change the direction of her life. With her reputation in ruin, there is only one respectable choice: marriage to a man she barely knows.
By 1934, the world has changed; millions are out of work and drought has devastated the Great Plains. Farmers are fighting to keep their land and their livelihoods as crops fail and water dries up and the earth cracks open. Dust storms roll relentlessly across the plains. Everything on the Martinelli farm is dying, including Elsa's tenuous marriage; each day is a desperate battle against nature and a fight to keep her children alive.
In this uncertain and perilous time, Elsa—like so many of her neighbors—must make an agonizing choice: fight for the land she loves or leave it behind and go west, to California, in search of a better life for her family.
The Four Winds
is a rich, sweeping novel that stunningly brings to life the Great Depression and the people who lived through it—the harsh realities that divided us as a nation and the enduring battle between the haves and the have-nots. A testament to hope, resilience, and the strength of the human spirit to survive adversity,
The Four Winds
is an indelible portrait of America and the American dream, as seen through the eyes of one indomitable woman whose courage and sacrifice will come to define a generation.
Read and Download books Freed -
Relive the sensuality, the romance, and the drama of
Fifty Shades Freed
through the thoughts, reflections, and dreams of Christian Grey.
E L James revisits the world of Fifty Shades with a deeper and darker take on the love story that has enthralled millions of readers around the globe.
You are cordially invited to the wedding of the decade, when Christian Grey will make Anastasia Steele his wife. But is he really husband material? His dad is unsure, his brother wants to organize one helluva bachelor party, and his fiancée won't vow to obey… 
And marriage brings its own challenges. Their passion for each other burns hotter and deeper than ever, but Ana's defiant spirit continues to stir Christian's darkest fears and tests his need for control. As old rivalries and resentments endanger them both, one misjudgment threatens to tear them apart.
Can Christian overcome the nightmares of his childhood and the torments of his youth, and save himself? And once he's discovered the truth of his origins, can he find forgiveness and accept Ana's unconditional love?
Can Christian finally be freed?
Read and Download books The Hotel - Secrets and lies...at Nantucket's most exclusive and glamorous, family-owned hotel.
The Whitley is Nantucket's most exclusive waterfront hotel - a sprawling collection of pristine white cottages and an elegant main building on a long stretch of private white sandy beach. It's a family owned business - brothers, sisters, cousins, aunts, all work there in various capacities.
Paula is happy in her back-office accounting position. But changes are in store when her grandfather promotes her and fires her cousin - who then blames Paula.
Meanwhile, a blond romantic-comedy superstar is hiding out at the hotel for a few months. She meets Paula's brother, a chef - who has no idea who she is - and she likes it that way.
Paula's grandfather also hires a consultant to help her settle into her new role. But she isn't sure what to think of David, who grew up on Nantucket but now lives in Manhattan.
He's a brilliant consultant and will be assessing Paula's suitability for the role. He's also home for another reason, a difficult family issue that makes Manhattan seem very far away.
A new family saga from the Wall Street Journal and USA Today best-selling author of The Nantucket Inn and The Restaurant.
Read and Download books The Effing List -
If you haven't read this series, you're missing out. Sinclair writes the best Doms
.
Period
.  ~ Under the Covers Book Blog
Let's liven up our marriage. It'll be fun.

Then her husband brought two slaves into the house.
That was the end of that.
Divorce achieved, Valerie is working on her goals
. 
Friends: has a new one. Fitness: little muscles! Finances: in the black.
Friskiness? Total. Effing. Fail.

So she attends the notorious Shadowlands club's open house. There, a sadistic Dom—a fellow professor--teaches her that she loves pain with her pleasure. He wants to show her more.
Despite the razor edges of his hard face and the authority in his every word, he's careful and caring. He listens, and how tempting is that?
But she knows better.
Her heart is off limits.
Retired Special Forces colonel, Ghost has been a widower for long enough
. 
Although he's ready to love again, the generous, caring woman he desires has scars from her past. However, he has hard-won skills, enough to show Valerie there can be a new F on her list—
fulfillment.
Life looks good.  Until his past surfaces, shattering his new life and the love he'd hoped to win.
This series only continues to get better and better and I hope it never ends.  ~
Dirty Girl Romance Reviews
Read and Download books Fast. Feast. Repeat. -
The instant New York Times and USA Today bestseller!

Change when you eat and change your body, your health, and your life!
Diets don't work. You know you know that, and yet you continue to try them, because what else can you do? You can
Fast. Feast. Repeat.
After losing over eighty pounds and keeping every one of them off, Gin Stephens started a vibrant, successful online community with hundreds of thousands of members from around the world who have learned the magic of a Delay, Don't Deny® intermittent fasting lifestyle.
Fast. Feast. Repeat.
has it all! You'll learn how to work a variety of intermittent fasting approaches into your life, no matter what your circumstances or schedule. Once you've ignited your fat-burning superpower, you'll get rid of "diet brain" forever, tweak your protocol until it's second nature, and learn why IF is a lifestyle, not a diet.
Fast. Feast. Repeat.
is for everyone! Beginners will utilize the 28-Day FAST Start. Experienced intermittent fasters will strengthen their intermittent fasting practice, work on their mindset, and read about the latest research out of top universities supporting intermittent fasting as the health plan with a side effect of weight loss. Still have questions? Gin has you covered! All of the most frequently asked intermittent fasting questions are answered in the exhaustive FAQ section.
Read and Download books A Court of Silver Flames - Sarah J. Maas's sexy, richly imagined series continues with the journey of Feyre's fiery sister, Nesta.
Nesta Archeron has always been prickly-proud, swift to anger, and slow to forgive. And ever since being forced into the Cauldron and becoming High Fae against her will, she's struggled to find a place for herself within the strange, deadly world she inhabits. Worse, she can't seem to move past the horrors of the war with Hybern and all she lost in it.
The one person who ignites her temper more than any other is Cassian, the battle-scarred warrior whose position in Rhysand and Feyre's Night Court keeps him constantly in Nesta's orbit. But her temper isn't the only thing Cassian ignites. The fire between them is undeniable, and only burns hotter as they are forced into close quarters with each other.
Meanwhile, the treacherous human queens who returned to the Continent during the last war have forged a dangerous new alliance, threatening the fragile peace that has settled over the realms. And the key to halting them might very well rely on Cassian and Nesta facing their haunting pasts.
Against the sweeping backdrop of a world seared by war and plagued with uncertainty, Nesta and Cassian battle monsters from within and without as they search for acceptance-and healing-in each other's arms.
Read and Download books The Seven Husbands of Evelyn Hugo -
NEW YORK TIMES BESTSELLERFrom the author of Daisy Jones & The Six—an entrancing and "wildly addictive journey of a reclusive Hollywood starlet" (PopSugar) as she reflects on her relentless rise to the top and the risks she took, the loves she lost, and the long-held secrets the public could never imagine.
Aging and reclusive Hollywood movie icon Evelyn Hugo is finally ready to tell the truth about her glamorous and scandalous life. But when she chooses unknown magazine reporter Monique Grant for the job, no one is more astounded than Monique herself. Why her? Why now?
Monique is not exactly on top of the world. Her husband has left her, and her professional life is going nowhere. Regardless of why Evelyn has selected her to write her biography, Monique is determined to use this opportunity to jumpstart her career.
Summoned to Evelyn's luxurious apartment, Monique listens in fascination as the actress tells her story. From making her way to Los Angeles in the 1950s to her decision to leave show business in the '80s, and, of course, the seven husbands along the way, Evelyn unspools a tale of ruthless ambition, unexpected friendship, and a great forbidden love. Monique begins to feel a very real connection to the legendary star, but as Evelyn's story near its conclusion, it becomes clear that her life intersects with Monique's own in tragic and irreversible ways.
"Heartbreaking, yet beautiful" (Jamie Blynn,
Us Weekly
),
The Seven Husbands of Evelyn Hugo
is "Tinseltown drama at its finest" (
Redbook
): a mesmerizing journey through the splendor of old Hollywood into the harsh realities of the present day as two women struggle with what it means—and what it costs—to face the truth.
Read and Download books The Bullet - After Eve Duncan finally gets her happy ever after with the man she loves, the last person she is expecting to return is Joe's ex-wife -- on the run with enough secrets to get them all killed -- in this latest thriller from #1
New York Times
bestselling author Iris Johansen.
Read and Download books Knocked Up: A Secret Baby Romance Collection - What happens when you're left with more than just the memories of an incredible night together?
Settle in and get your fill of sixteen NEW secret baby stories where hidden secrets are revealed and couples that were once separated are reunited. Each story guarantees cuteness, sexiness, lots of love, and of course a HEA.
This collection includes stories from USA Today bestselling authors Nicole Blanchard, Kaylee Ryan, Jenika Snow, Marley Valentine, and K Webster. Nikki Ash, Lacey Black, Jacob Chance, Kelsey Clayton, J.D. Hollyfield, Rebecca Jenshak, CoraLee June, Heidi McLaughlin, Lauren Runow, Micalea Smeltzer, and Misty Walker.
Read and Download books Hand Me The Reins -
Bought in an auction by a shy baker? No problem.
Pretending to be her boyfriend for her sister's wedding? On it.
I can pretend all day long because I'm Thatcher Manning, the guy who doesn't do relationships.
I'll give a woman a wild romp. Hell, I'll give her anything. Anything but my heart.
I decided a long time ago I'd never get serious with a woman.
The fact that I'm leaving town in a few months only cements that decision.
But then Astrid has to get under my skin. She hands over the reins in bed—and out—and now I'm catching feelings.
The kind you can't fake.
Trouble is—I wasn't playing for keeps. Now,
that's
a problem. A big one.  
Read and Download books Where the Crawdads Sing -
#1 NEW YORK TIMES BESTSELLING PHENOMENON
More than 6 million copies sold
A Reese Witherspoon x Hello Sunshine Book Club Pick
A Business Insider Defining Book of the Decade 

"I can't even express how much I love this book! I didn't want this story to end!"--Reese Witherspoon

"Painfully beautiful."--The New York Times Book Review

For years, rumors of the "Marsh Girl" have haunted Barkley Cove, a quiet town on the North Carolina coast. So in late 1969, when handsome Chase Andrews is found dead, the locals immediately suspect Kya Clark, the so-called Marsh Girl. But Kya is not what they say. Sensitive and intelligent, she has survived for years alone in the marsh that she calls home, finding friends in the gulls and lessons in the sand. Then the time comes when she yearns to be touched and loved. When two young men from town become intrigued by her wild beauty, Kya opens herself to a new life--until the unthinkable happens.
Where the Crawdads Sing
 is at once an exquisite ode to the natural world, a heartbreaking coming-of-age story, and a surprising tale of possible murder. Owens reminds us that we are forever shaped by the children we once were, and that we are all subject to the beautiful and violent secrets that nature keeps.
Read and Download books Golden Girl -
In this satisfying page-turner from "the queen of beach reads" (New York Magazine), a Nantucket novelist has one final summer to protect her secrets while her loved ones on earth learn to live without their golden girl.
On a perfect June day, Vivian Howe, author of thirteen beach novels and mother of three nearly grown children, is killed in a hit-and-run car accident while jogging near her home on Nantucket. She ascends to the Beyond where she's assigned to a Person named Martha, who allows Vivi to watch what happens below for one last summer. Vivi also is granted three "nudges" to change the outcome of events on earth, and with her daughter Willa on her third miscarriage, Carson partying until all hours, and Leo currently "off again" with his high-maintenance girlfriend, she'll have to think carefully where to use them.
From the Beyond, Vivi watches "The Chief" Ed Kapenash investigate her death, but her greatest worry is her final book, which contains a secret from her own youth that could be disastrous for her reputation. But when hidden truths come to light, Vivi's family will have to sort out their past and present mistakes—with or without a nudge of help from above—while Vivi finally lets them grow without her.
With all of Elin's trademark beach scenes, mouth-watering meals, and picture-perfect homes, plus a heartfelt message—the people we lose never really leave us—
Golden Girl
is a beach book unlike any other.
Read and Download books The Body Keeps the Score -
#1 New York Times bestseller

"Essential reading for anyone interested in understanding and treating traumatic stress and the scope of its impact on society." —Alexander McFarlane, Director of the Centre for Traumatic Stress Studies

A pioneering researcher transforms our understanding of trauma and offers a bold new paradigm for healing in this New York Times bestseller
Trauma is a fact of life. Veterans and their families deal with the painful aftermath of combat; one in five Americans has been molested; one in four grew up with alcoholics; one in three couples have engaged in physical violence. Dr. Bessel van der Kolk, one of the world's foremost experts on trauma, has spent over three decades working with survivors. In 
The Body Keeps the Score
, he uses recent scientific advances to show how trauma literally reshapes both body and brain, compromising sufferers' capacities for pleasure, engagement, self-control, and trust. He explores innovative treatments—from neurofeedback and meditation to sports, drama, and yoga—that offer new paths to recovery by activating the brain's natural neuroplasticity. Based on Dr. van der Kolk's own research and that of other leading specialists, 
The Body Keeps the Score 
exposes the tremendous power of our relationships both to hurt and to heal—and offers new hope for reclaiming lives.
Read and Download books The Four Agreements - In The Four Agreements, bestselling author don Miguel Ruiz reveals the source of self-limiting beliefs that rob us of joy and create needless suffering. Based on ancient Toltec wisdom, The Four Agreements offer a powerful code of conduct that can rapidly transform our lives to a new experience of freedom, true happiness, and love.
•  A New York Times bestseller for over a decade
•  An international bestseller translated into 46 languages worldwide
"This book by don Miguel Ruiz, simple yet so powerful, has made a tremendous difference in how I think and act in every encounter." — Oprah Winfrey
"Don Miguel Ruiz's book is a roadmap to enlightenment and freedom." — Deepak Chopra, Author, The Seven Spiritual Laws of Success
"An inspiring book with many great lessons." — Wayne Dyer, Author, Real Magic
"In the tradition of Castaneda, Ruiz distills essential Toltec wisdom, expressing with clarity and impeccability what it means for men and women to live as peaceful warriors in the modern world." — Dan Millman, Author, Way of the Peaceful Warrior
_________________________
About the Authors
Don Miguel Ruiz is the bestselling author of The Four Agreements (a New York Times bestseller for over a decade), The Four Agreements Companion Book, The Mastery of Love, The Voice of Knowledge, The Circle of Fire, and The Fifth Agreement. The teachings of Ruiz are best known for transforming complex human issues into simple common sense — a talent that has earned him millions of fans and international acclaim.
Janet Mills is the founder and president of Amber-Allen publishing. She is also the co-author, with don Miguel Ruiz, of six books in The Toltec Wisdom Series, creator of "The Four Agreements for a Better Life" online course, and editor of Deepak Chopra's bestselling title, The Seven Spiritual Laws of Success. Her life's mission is to publish books of enduring beauty, integrity, and wisdom, and to inspire others to fulfill their most cherished dreams.
Read and Download books Passions of the Billionaire Boys Club -
Kelsey is starting to find balance between her public life and her private time with Tyler
, and starts to feel secure in being Kelsey Olsen.
But will a run-in with a reporter ruin everything?
Read and Download books Love's Treasure - A Christian Romance Collection Limited Edition -
Love may be the greatest gift—but only God's love can transform these couples' lives…
Fourteen of your favorite Christian romance authors offer an inspiring collection of contemporary and historical stories celebrating the greatest treasure of all—love.
From new starts to second chances, broken dreams to renewed hope, treasure hunts to runaway brides, this collection of stories will touch your heart and stir your spirit, reminding you of God's power to transform hearts and lives.
Don't miss this limited-edition collection of heartwarming stories from USA Today and bestselling Christian romance authors.
100% of Pre-order proceeds will be donated to the Village Enterprise organization in Africa.
INCLUDED IN THIS LIMITED-EDITION DIGITAL COLLECTION:
Juliette Duncan: Because We Cared
Autumn Macarthur: Nothing More
Marion Ueckermann: More than This
Joy Ohagwu: The Secret Heritage
T.K. Chapin: One Love
Lorana Hoopes: Love Renewed
Elizabeth Maddrey: So You Love to Hate Your Boss
Evangeline Kelly: Love's Sacrifice
Valerie Comer: Ruby Radiance
Naomi Rawlings: Love's Violet Sunrise
Valerie M. Bodden: Heart's Home
Melissa Tagg: Someday Soon
Mandi Blake: A Thousand Words
Carol Moncado: The Lifeguard, The Runaway Bride, & Frozen Custard
Pre-order your copy now!